Read Us is the official magazine of The SCOAN. It is an inspiring and gripping publication that you will not want to put down! It includes: touching testimonies, enlightening experiences, lessons of life, personal messages from Prophet T.B. Joshua, health tips and much more! In this edition, you will find: -A Tribute To The Martyrs Of Faith -Message from God's General, C.S. Upthegrove -SA Gossip Journalist Gets A Shock -Express Your Faith In Fashion -T.B. Joshua In Korea to mention a few. Enjoy it!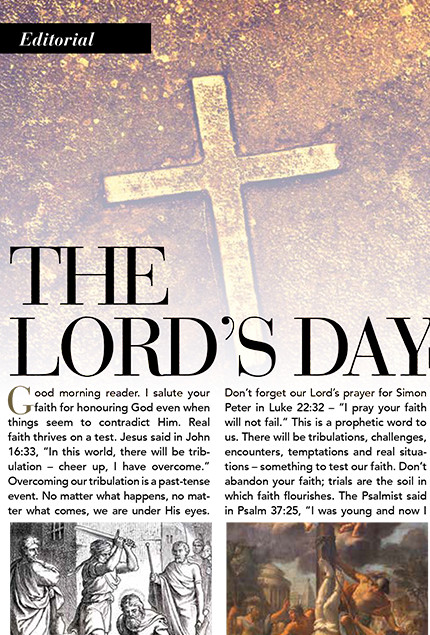 Good Morning Reader, I salute your faith for honouring God even when things seem to contradict Him. Real faith thrives on a test. Jesus said in John 16:33, "In this world, there will be tribulation – cheer up, I have overcome." Overcoming our tribulation is a past-tense event. No matter what happens, no matter what comes, we are under His eyes. What can separate us from the love of Christ? Can death? Can tribulation? Nothing can separate us! Readers, that is our position.
T.B.JOSHUA is the founder and General Overseer of The Synagogue,  Church Of  All Nations  and Emmanuel  TV, international ministries operating  through  God's Word, by His Spirit, to bring salvation, healing, deliverance and blessing to all the people of all nations.
He says,
"Whatever I am today is a product of the conviction that victory through Christ Jesus is victory indeed. The rest is history".